Jenman Approved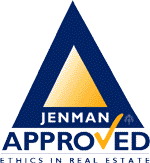 Walter & Irvine are proud to be the only agency in South Australia since 2000, to be accredited as Jenman Approved.
When you see the APPROVED symbol you know that are seeing an agent who is committed to providing the finest real estate service in the world.
The APPROVED definition is a method of recognition by which homesellers and homebuyers can identify estate agents who are committed to ethical systems and exceptional levels of client care.
Our values
Our core values at Walter & Irvine are based on the five-letter word TRUST.
T = Trust
R = Responsibility
U = Understanding
S = Standards
T = Truth
Find out more about the Jenman Approved Values »
Homesellers
There are 8 reasons to consider an APPROVED Jenman agent when selling your home.
1. Honest Quoting
2. 'Fair-Go' Fees
3. No Fees in advance
4. Smart Marketing
5. Respect for you and your property
6. Secure and Private Inspections
7. Guaranteed Buyers Highest Price
8. Jenman Guarantee
Find out more about the 8 Reasons, click here »
Every day, with every person, as an APPROVED office our agents should be a fine example of these Five Core Values.
.