Jenman Approved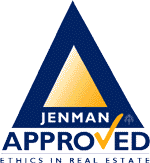 Walter & Irvine are proud to be the first agency in South Australia since 2000, to be accredited as Jenman Approved.
When you see the APPROVED symbol you know that you are seeing an agent who is committed to providing the finest real estate service in the world.
The APPROVED definition is a method of recognition by which homesellers and homebuyers can identify estate agents who are committed to ethical systems and exceptional levels of client care.
Our values
Our core values at Walter & Irvine are based on the five-letter word TRUST.
1. Trust
We believe trust is the most important ingredient in any relationship.
To receive trust we have to be worthy of trust. This requires integrity which means "soundness of moral principle".
We must always do what is right, regardless of the cost to ourselves or how hard it may be. This is called the 'hard right'. We accept that trust must be earned – often over a long period of time, and that it can be lost in a few seconds. We have to trust ourselves and each other to do what is right so that we can earn and keep the trust of consumers. We will keep our promises and be known as people who 'walk their talk'. Our actions will always exceed our words.
Trust is the first of our values.
2. Responsibility
It is our responsibility to care about our clients and respect the trust they give us by choosing us as their agents. It is our responsibility to be worthy of this trust. It is our responsibility to be loyal to our clients.
We accept that we are responsible for our attitude, our knowledge and our skills and, therefore, our level of success.
In our careers we accept that we are responsible for the culture in our offices.
We accept all our responsibilities to our clients, our colleagues and our families.
3. Understanding
We understand our system and the duty of our role.
We care about our clients, our colleagues and our profession. We know how important it is to listen and to communicate. We strive to be good listeners and good communicators.
We strive to see the obvious by sifting through many complexities. We help others do the same. We understand that when our clients understand us, when they know and see that we care about them, we will never be short of clients.
We understand that true business success comes from caring about others.
We understand the importance of personal character in every aspect of life.
4. Standards
We believe in standards of excellence in all that we do.
Our standards begin with our personal characters. We believe it is hypocritical to show one face in public and another in private, especially if our private face would not be approved of by our clients.
Our minimum standard is to win every client for life – to win more than a satisfied client, to win a loyal client.
We believe in respecting people and if we cannot respect people we believe it is wrong to associate with them, whoever they are.
We believe that the maintenance of excellent standards requires a commitment to continual learning. We have minimum learning standards so that we can constantly increase our results and service standards.
We measure our success by two standards – client loyalty and profit. We believe that both these standards are dependent on each other.
5. Truth
We believe in being truthful with ourselves and with others.
We do not believe in misleading or deceptive conduct, no matter what the reason. We would rather lose business than use any method which relied on lies or deceit of any kind.
We believe honesty is the only way to succeed in business – in the long term. We are here for the long term.
Being open and truthful in business is so rare that it creates a huge impression. We believe in making the right impression. We believe in the truth.
We believe it is wrong to deny our mistakes or cover them up with half-truths or excuses. We admit our mistakes and face the consequences.
We believe half-truths are whole lies.
The truth saves time; it prevents worry.
We are not always perfect, sometimes we are not even excellent.
But we must always be truthful and honest.
Find out more about the Jenman Approved Values »
Homesellers
There are 8 reasons to consider an APPROVED Jenman agent when selling your home.
1. Honest Quoting
2. Fair-Go Fees
3. No fees in Advance
4. Advertising
5. Respect for you and your property
6. Secure and Private Inspections
7. Final Pricing
8. Jenman Guarantee
Every day, with every person, as an APPROVED office our agents should be a fine example of these Five Core Values.